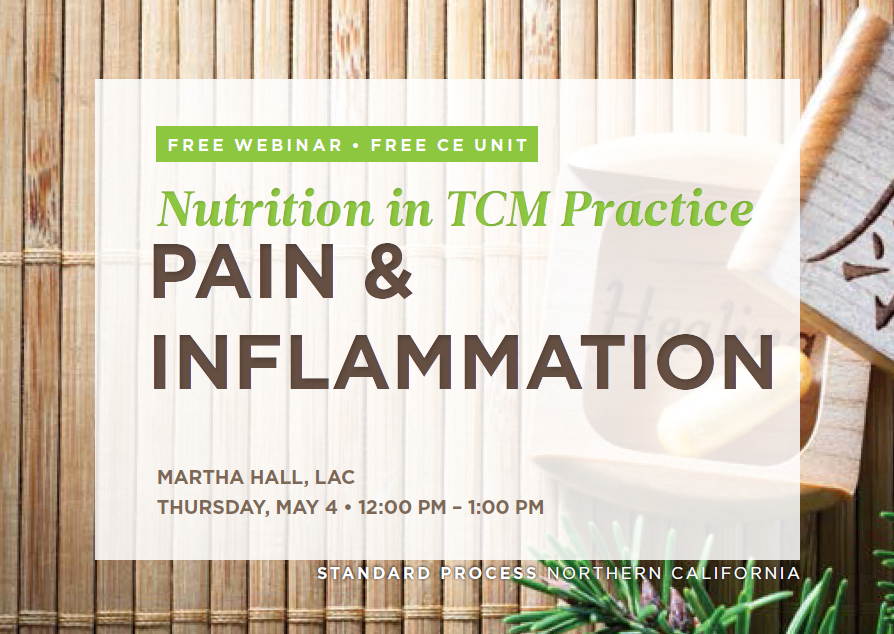 WEBINAR DETAILS
Join Dr. Martha Hall in this one hour webinar where she will discuss natural and effective approaches to treating patients with pain and inflammation. Dr. Hall will identify how to distinguish between the symptoms of acute and chronic pain helping you to establish the most effective treatment plan. Learn how to apply traditional techniques to expedite recovery and ensure patient satisfaction. Dr. Hall will introduce specific nutritional supplements that help patients repair and recover inflammation and pain. Don't miss out on this opportunity to expand your knowledge on pain and inflammation treatments.
ABOUT THE PRESENTERS
Dr. Martha Hall received her doctorate of Acupuncture and Oriental Medicine from Pacific College of Oriental Medicine in San Diego. Dr. Hall holds a license through the National Certification Commission for Acupuncture and Oriental Medicine (NCCAOM). She is a Certified Applied Clinical Nutritionist from Southern California University of Health Science, and she is a Certified Clinician in Whole Food Nutrition from the International Foundation for Nutrition and Health.
Dr. Hall extended her studies in China at Chengdu University where she completed a 100-hour externship at Chengdu University Hospital working alongside medical doctors. She runs her private practice in San Juan Capistrano, where she integrates acupuncture, herbal medicine, and whole food nutrition in order to treat her patient's whole body rather than just their symptoms.
REGISTRATION & CEU INFORMATION:
This webinar is Approved by 1 CE Unit by the California Acupuncture Board, Provider Number 484, Category 1 and is FREE to Standard Process of Northern California (SPNC) account holders. To register or open your FREE account with SPNC, call